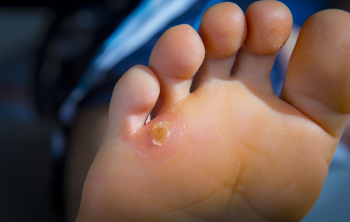 Seed corns, those tiny yet painful annoyances on the feet, may sound inconsequential but can be quite uncomfortable. These small, hardened, and sometimes translucent bumps typically develop on the soles of the feet or in between the toes. They are a form of callus, but unlike the regular calluses that form due to friction or pressure, seed corns have a different origin. The causes of seed corns can vary. They often arise from dry skin, which is more prone to developing these small, central core calluses. Ill-fitting shoes that constantly rub against certain areas of the feet can also be a culprit. Additionally, foot deformities or gait abnormalities can increase pressure on specific spots, leading to seed corn formation. While seed corns may seem minor, they can be quite painful while walking. If you are dealing with these tiny irritations on your feet, it is suggested that you consult a podiatrist who can alleviate the discomfort and prevent them from returning, ensuring your feet remain healthy and pain-free.
If you have any concerns regarding your feet and ankles, contact Darren Day, DPM of Hawaii. Our doctor will treat your foot and ankle needs.
Corns: What Are They? and How Do You Get Rid of Them?
Corns can be described as areas of the skin that have thickened to the point of becoming painful or irritating. They are often layers and layers of the skin that have become dry and rough, and are normally smaller than calluses.
Ways to Prevent Corns
There are many ways to get rid of painful corns such as wearing:
Well-fitting socks
Comfortable shoes that are not tight around your foot
Shoes that offer support
Treating Corns
Treatment of corns involves removing the dead skin that has built up in the specific area of the foot. Consult with Our doctor to determine the best treatment option for your case of corns.
If you have any questions please feel free to contact our offices located in Honolulu and Kahuku, HI . We offer the newest diagnostic and treatment technologies for all your foot and ankle needs.
Read more about Understanding Corns and Calluses