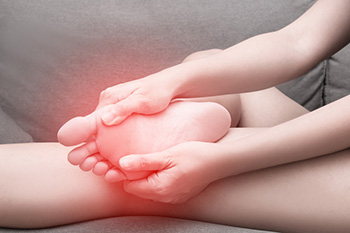 Freiberg's disease, a condition affecting the bones in the ball of the foot, often near the base of the big toe, can cause substantial pain and discomfort. It is more apt to affect runners, dancers, and women who wear high heels. Freiberg's disease sometimes affects people with a short big toe and a longer second toe. It is characterized by the death of tissue in the foot's bones, primarily the second metatarsal head. Symptoms can include persistent pain, described as a sharp, aching discomfort. Swelling and stiffness in the affected joint can hinder mobility. The pain worsens during weight-bearing activities, especially when pushing off of the foot and wearing high-heeled shoes. Freiberg's disease is more prevalent in adolescent girls experiencing rapid growth, or people with specific bone structure issues. Diagnosis by a podiatrist involves taking X-rays to confirm and assess the condition's severity. Treatment options include corticosteroid injections to help manage pain and inflammation during flare-ups. Footwear modifications, including low-heeled shoes with thicker soles and rounded heels, can help redistribute pressure across the foot. Custom orthotics also can relieve pressure on affected joints. Surgery, which is rarely required, may involve removing the second metatarsal bone for unmanageable, persistent pain. If you suspect you may be suffering from Freiberg's disease, it is suggested that you make an appointment with a podiatrist for an accurate diagnosis and personalized treatment plan. 
Some foot conditions may require additional professional care. If you have any concerns, contact Darren Day, DPM of Hawaii. Our doctor can provide the care you need to keep you pain-free and on your feet.
Rare Foot Conditions
The majority of foot conditions are common and can be treated by a podiatrist.  Standard diagnostic procedures are generally used to identify specific conditions and treatment can be rendered. A podiatrist also treats rare foot conditions which can be difficult to diagnose and may need extra attention and care. 
There are many rare foot conditions that can affect children. Some of these can include:
Freiberg's disease
Kohler's disease
Maffucci syndrome
Freiberg's disease - This can be seen as a deterioration and flattening of a metatarsal bone that exists in the ball of the foot. It typically affects pre-teen and teenage girls, but can affect anyone at any age. Symptoms that can accompany this can be swelling, stiffness, and the patient may limp. 
Kohler's disease - This often targets the bone in the arch of the foot and affects younger boys. It can lead to an interruption of the blood supply which ultimately can lead to bone deterioration. The patient may limp or experience tenderness, swelling, and redness.
Maffucci syndrome - This affects the long bones in a child's foot leading to the development of abnormal bone lesions. They are benign growths and typically develop in early childhood and the bones may be susceptible to breaking. 
A podiatrist can properly diagnose and treat all types of rare foot conditions. If your child is affected by any of these symptoms or conditions, please don't hesitate to call our office so the correct treatment method can begin.
If you have any questions please feel free to contact our offices located in Honolulu and Kahuku, HI . We offer the newest diagnostic tools and technology to treat your foot and ankle needs.
 
Read more about Rare Foot Conditions